Sheijtan wrote:
Haven't seen the pit templates yet. Looks great in my opinion
.
Also like the conversion of Ur-Kek! Very well done with the mask and the axe, even though it gives a very grim and dark feel to him.
Thank you, I'm glad you think it works. There are worse things than grimdark in my view, I'm still a GW fan in my heart of hearts even though I like other games too.
I'm really happy just now as I just finished my first AR model.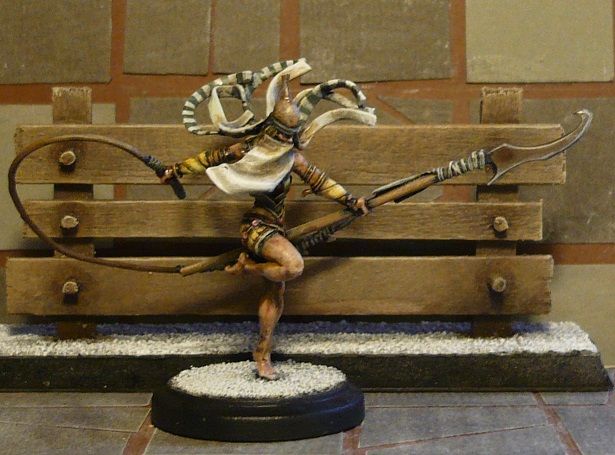 Or almost finished, anyway. Taking pictures always reveals little flaws that need correcting. But I'm pretty happy with this little lady just now.
I would say that she is the flimsiest model I've ever had to assemble, but I've also now assembled Viatrix, and I think the honour may go to her.
I'm not 100% sure on the colour scheme - the Egyptian theme seems to scream for a light blue, but I couldn't do it, because I want the different ludi to have different main colours. Legio XIII are blue, so Morituri couldn't be blue too. Yellow felt mandatory to me, and I ended up trying for a subtle green as contrast colour. Which feels appropriate since their faction dice are green.
Mago and Ur-Kek are currently both all black, so I think I will paint them both up together.