As a bonus update, here are some shots of our latest Arena Rex game (first one 100% painted!):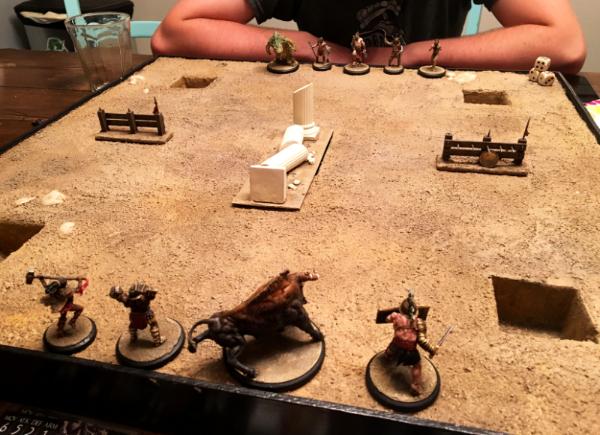 Set-up: Lupa, Micon, Nero, and Otho on my end, and Atrox, Marcus Furius, Gaius Pallidus, Hermes, and Antaeus on Gomez Jr.'s side.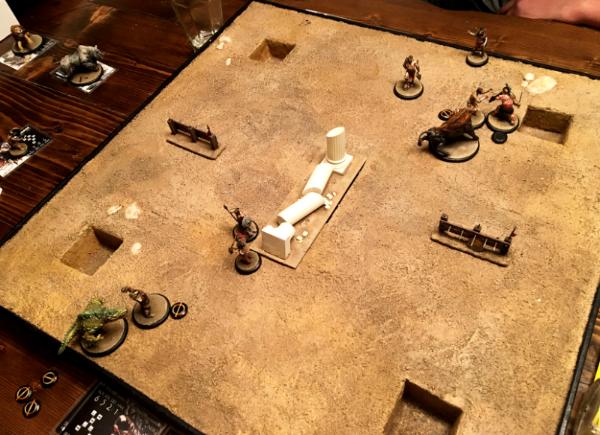 The action after a couple rounds of movement and feinting: Atrox has dragged Micon into the backfield, Lupa and Marcus are facing off doing almost nothing, while Otho and Nero have charged forward to engage Antaeus.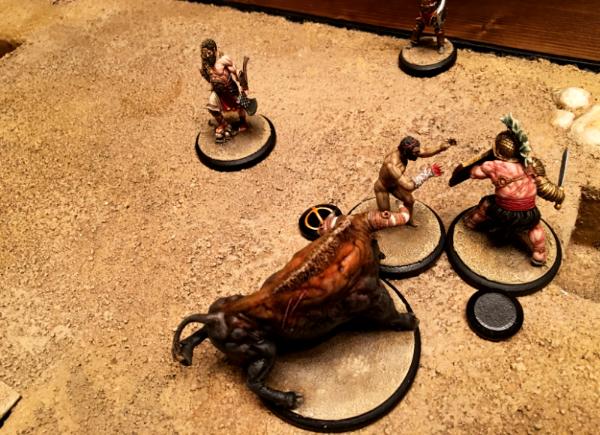 Here Antaeus has just used his Hip Toss ability to flip spots with Otho and put him on the very edge of the pit (bad planning on my part). The good news is, Nero pushed Antaeus the next round and then followed up so his base was overlapping both his and Otho's - which allowed me to place Otho on the other side of Nero (who can't be pushed, as he's a Titan, making him safer there) and keep him from insta-death.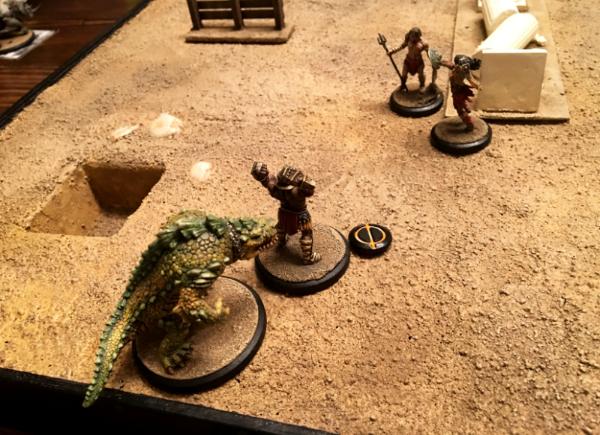 Atrox is just about to score two Drags from his damage tree here, allowing him to move to the left side of the pit and pull Micon in. That was the first defeat of the match, and happened before Micon could do much of anything.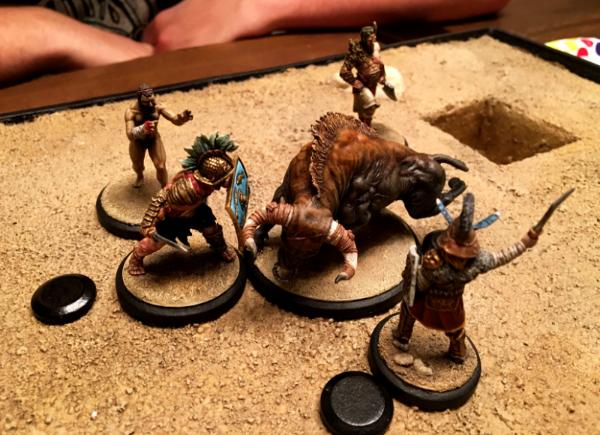 Here Nero has just gone Wild during a Clear Turn - and unfortunately he ended up attacking his own teammate Otho rather than the two enemies who were also valid targets (dang dice!). Thankfully he only did a couple damage and ended up moving the action a little further from the pit.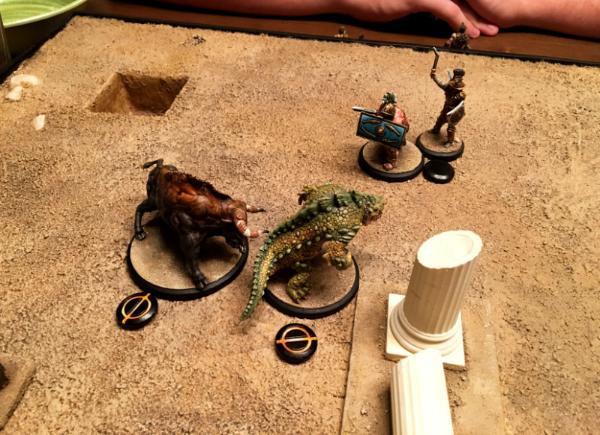 And this is the end-stage of the match: Nero puts Atrox out of his misery, Hermes dispatches Otho, leaving Nero vs. Hermes for the Last Men Standing rules. Nero had his whole second card to put into play still and Hermes's Aegis of Fame ability (which makes his opponent have to burn a Favor dice every turn just to attack him) goes out the window when he's LMS, so the end result was almost inevitable but it was still an enjoyable game (as always). I think the way the game is balanced to almost always end up with 1 vs. 1 LMS is fairly genius - we've never had more than a single fighter alive at the end of a match, and things tend to come down to the action being one attack away from a victory for one side or the other.
Also, quick question: how does everyone play Beasts as LMS? We couldn't decide what seemed most appropriate when Nero was my last fighter... Does he ONLY go Wild as every turn is a Clear Turn (eliminating the chance to do any power attacks)? Does he go Wild AND attack as normal (giving him almost double the hitting power of non-beasts)?
In other news, I also got some WIP shots from this AM: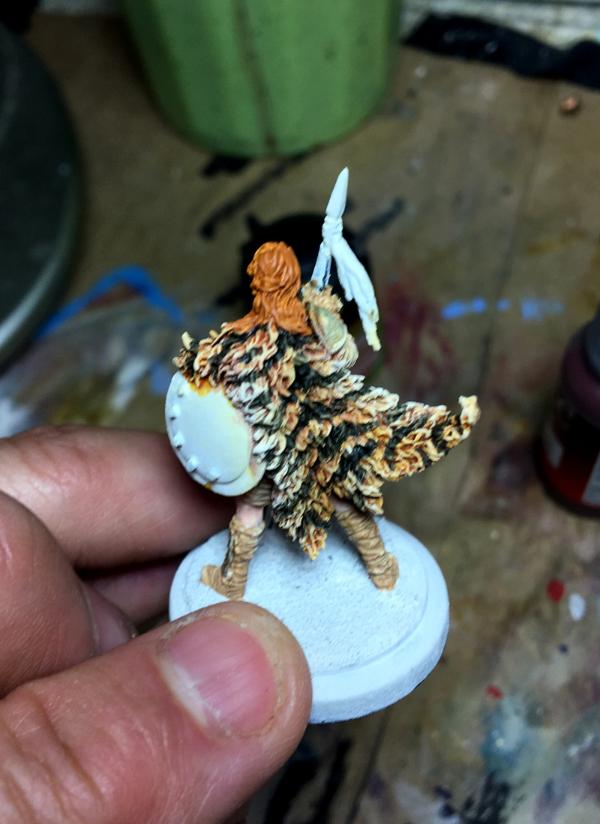 Aemilia - not who I was planning on starting next, but I got the tiger pelt idea and wanted to give it a shot ASAP.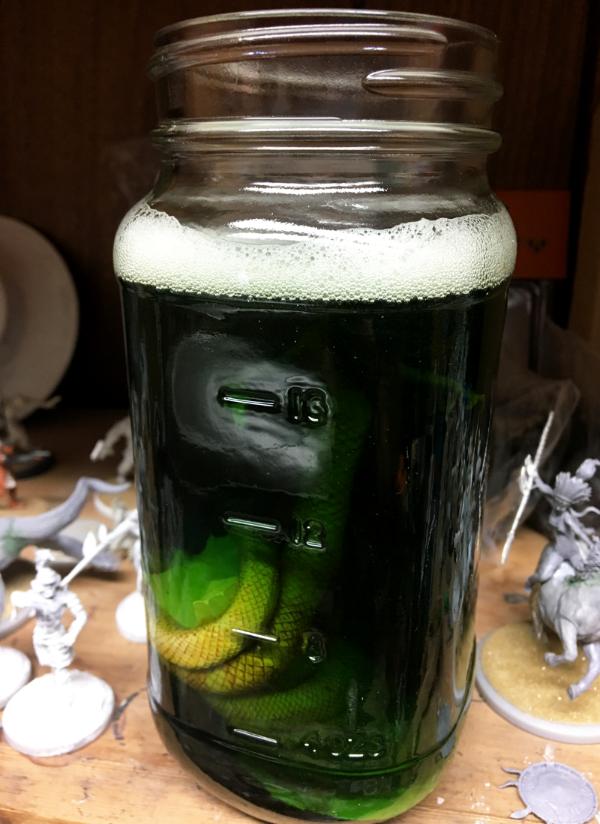 And Euryale - who I intended to start on, but after a couple false starts on her snakeskin pattern had paint too thick in a few places... D'oh! So into the Simple Green she went. I'll soak her until tomorrow, then scrub and wash and re-primer her and start over.