ripper.mcguirl wrote:
All awesome! It's amazing how much the painted fatigue markers add to the vibe.
Thanks, rip. I agree about the tokens - I love the way they look and it feels like they complete the feel of the gameplay. I do have to say that I shamelessly stole the idea from
spiralingcadaver
so credit really needs to go to him.
Also, quick update... Here's where I'm at with Otho: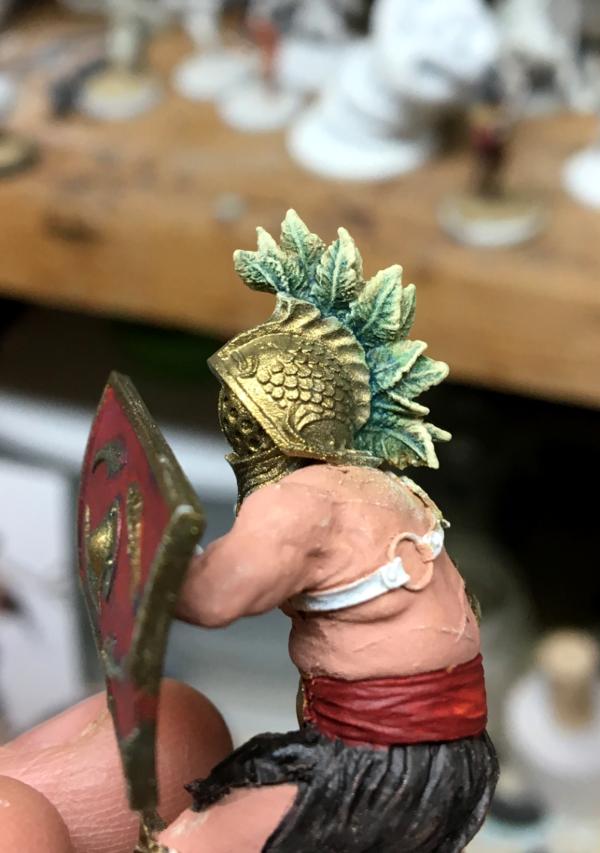 My original plan was to paint the feathers like a peacock's, with a blue "eye" in a brown ring on each, but I kind of like the look of them like this. I could get some more blue/turquoise tones in them to sort of suggest the peacock without worrying about all that fine detail... What do you guys think? (Good news is I can decide later.)
Also, stripped Iason. I decided to reverse course and paint his armor silver like his actual original art, but that extra layer of paint just started to obscure too much detail so I broke out the Simple Green. Still a pain in the ass to get all the paint out of all the crevices, even after several rounds in the cleaner - had to use tiny wire brushes and pushpins to get at it all, and ended up snapping his spear in multiple places, but there is a (small) silver lining: the SG loosened the glue on his shield and it popped right off so now I'll be able to actually paint his arm and chest effectively.
Also got a bit done on Lupa but nothing too exciting. Maybe I'll be able to get in another update this weekend.
Cheers - thanks for looking!